Surprise your adorable dog with monthly delivery of toys, treats, and tail wagging dog joy.
From puppy to a senior dog, we have a WoofBox for all.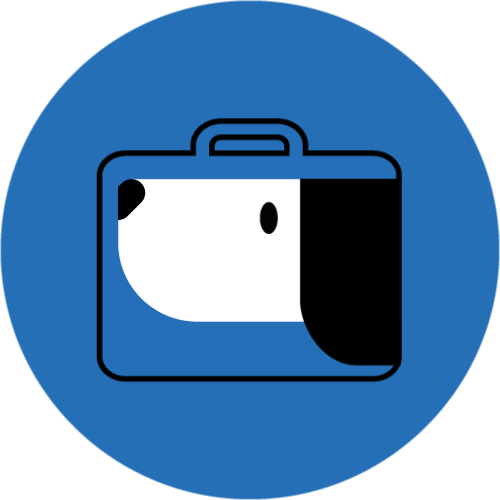 TRAVEL BUDDY
Specially curated to keep your companion dog safe as you travel together 
Choose Box
Choose from a variety of boxes based on your pooches need from puppy starter to birthday special box. We have a box for every need.
Select Plan
Try for a month or subscribe for 3, 6 or 12 months to save more.
Awesomeness Delivered
WoofBox shipping starts from 15th of each month. We can make exceptions if you are celebrating a special day with your pooch!
Treat Your Pet With the best Dog Subscription Box
Your dog, a beloved member of your family deserves to be treated well across all phases of his life. A puppy box or a junior dog subscription box or a senior dog box which is loaded with treats, toys & more is a perfect way to show how much you care. Pet owners across India rely on our team's expertise as we carefully select four or more toys, gluten-free treats, accessories that usually arrive monthly. We also specialize in curating boxes bases on dog traits & for super-special occasions like your dog's birthday.
At WoofBox, we carefully curate monthly gift boxes full of favorite dog toys enjoyed by pets of different shapes & sizes across age. You can also choose to add individual dog gifts for delivery across India. One of the most popular gift options is a dog collar with name. A perfect addition to the WoofBox as you surprise a friend or family member with a new pet in their life.
by subscribing to a dog subscription box for three, six, or twelve months, dog owners can save even more while engaging pets with fun toys and goodies that arrive at the doorstep. We offer dog toys that are not typically available in local pet shops, so your pooch has a great selection from chew toys to plush dog toys, and even premium dog food packs.
WoofBox also ensures a different dog toy in every dog subscription box. We work closely with customers and can add their favorite items or create a custom box for your dog's birthday. Of course, if we send something that your dog is not interested in, we send a replacement for free.
Apart from these unique monthly deliveries of new toys and goodies, dog owners in India can also shop for a special treat for their pets with easy access to online shopping for dogs on our website.
Every WoofBox is loaded with 4 or more goodies like dog toys, dog treats, accessories and loads of love!
---
Each box is carefully curated with tail wagging goodies that you wouldn't find in a normal pet store. Your pooch will always get a different box. We make sure that the goodies are not repeated in next month's subscription. If you love something and want it to be a part of the next box, give us a call at (+91)9967714968.
---
If your pup doesn't totally love an item in their WoofBox, we'll send them a replacement for FREE. No muss, no fuss, only wagging tails.
---
Save money by opting for longer subscriptions.
Customised For Your Pet
Every product that goes into a WoofBox is approved by our pooches, Zara and Foster. They are the auditors who make sure you get the best and only best as they do. We would never send you anything that we would not give our little ones.
Approved By Our Pooches
Every product that goes into a WoofBox is approved by our pooches, Zara and Foster.
Satisfaction Guaranteed
We are so confident with the quality and art of curating the best for your dog, that every WoofBox comes with a replacement guarantee. So after receiving this special goodie box, if your dog ain't going bonkers, we will send you another box full of happiness.
Recommended By All
Our offerings span from a junior box to senior box. These different boxes are so loved that we have a 4.7 star rating on our Facebook page. We are highly recommended all over social media.


I'm very happy with my experience so far
I've bought multiple Woofboxes, not only for my dog (female indie) but for many of my pet-parent friends. I've been very happy with the boxes so far. The toys are of pretty great quality (the food got gobbled up but that's a one-time thing). Many of Lulu's favourite toys are from Woofbox (and so is the case with people I've gifted this). There were also things I discovered in these boxes that my dog likes which I would not have otherwise (like the floatable toys… I would have never got them myself, but Lulu loves the Monkey toy and it also doubles as a nice frisbee!).

My Scruffy (Shih-Tzu dog) was never too fond of toys except the balls. But this Crab-shaped toy is his favorite now. Woofbox came with a surprise for him n me both. It had 6 items that included 2 toys, shampoo, tick-repellant collar, soft chew duck treats and most important stuff- 'Tear Stain Cleaner'. Shih-Tzus generally have watery eyes, hence reddish stains. The red-colour is due to breeding of red-yeast. I am happy to finally find a solution delivered right at my door-step. Recommend Woofbox to all pet-owners.

smile emoticon
.. she was very excited the moment she saw the box and was not disappointed when she opened it.. all in all a happy labmate is a happy family..
"hope to get many more of these" – Akira (woof woof)
I heard about Woofbox few days back on fb through someones post and decided to go for it for my best gal Akira.. Initially i was in dilemma whether i would get it for this month (as i do not want to wait for next month) so i had a chat with the Woofbox team and believe me they were very prompt and helpful.. They even promised me to make it an exception and get it shipped within 1-2 days.. and they did.. so kudos to the team.. keep it up guys.. So finally waiting for few days (which seems lyk a month) I got my first WoofBox

This box has everything for your favourite friends! From scented collars to yummy treat samples, my dogs have been in heaven. My labbie has absolutely loved the toy that came in the box and now he refuses to put it down! I'd definitely recommend this to any pet parents wanting to treat their babies every month.