A safe HOLI for pets – Why this festival is not for your pooches!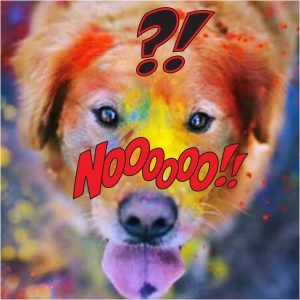 HOLI festival starts with a Holika Bonfire on the night before holi where people gather sing and dance. The next morning starts with a carnival of colours. But is this festival safe and equal fun for your little pup? The answer is an obvious big NO. This holi, letís keep our pets safe and healthy by taking special care of them.
Here are a few tips following which you can enjoy this festival equally with your pooch:
Keep them home:
Do not take your little furry out with you to play with colours. The synthetic, toxic colours contain chemicals, lead, metal oxides that can cause severe skin allergies and respiratory infection which if not treated well-in-time, can cause acute damage to your pet's health.
No sweets for pets:
Sweets like Gujiya are the highlights of this festival. As sweets are not good for dog's coat and skin, feed them to your pet in moderate quantities.
Do not let them lick:
Dogs and cats have a tendency to lick themselves and hence are at a higher risk during this festival. Colours might cause food poisoning and vomiting. So keep them busy with their toys and treats.
No Bhaang for pets:
No matter how naturaly Bhaang (made from leaves and flowers of a cannabis plant) is made, any such beverage or alcoholic drink is a strict no for your pet.
Observe your pet:
A careful observation of your pet's behaviour is very important after any festival. Excessive licking, salvation, laziness, aggression, vomiting or loose motions are symptoms of infection. If you observe any of these symptoms, take your pet immediately to a vet to take remedial action.
Removing colour:
Never ever use spirit or kerosene to remove the colour from your pet's body. These will worsen his skin health. Use plain water and a mild dog shampoo to remove colour from his body and fur. The chemicals from even small amount of left over colour, can penetrate his skin and cause irritation in the coming days. So make sure you give a good bath to your pet.
Play with your pet:
Once you are back after enjoying the festival, make sure you give enough attention to your pet. Spend time with your pet by playing with his favourite toy, so he does not miss the fun of this beautiful festival of colours.
You might want to have fun with him by using a little eco-friendly colour, but others and specially kids might end up throwing colour or water balloons on your puppy, as they do not realise the consequences. These water balloons can cause serious damages to a pet's eye and other sensitive body parts. If you still want to celebrate Holi with your lovely pooch, play with him using Turmeric Powder (Haldi). That is natural and has medicinal value also. Holi for all of us is a festival of colours, but for our pets, let it be a festival of love.