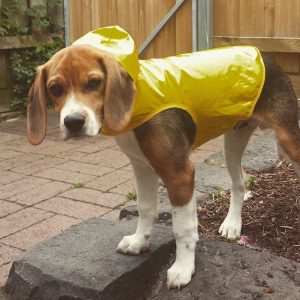 I love getting wet in rain, but does that mean my little puppy would also love it? The answer is NO! Just like many humans do not like getting wet in rain, even dogs do not like to get soaked on a rainy day. Lot of dogs prefer to hold on than do their business if it's raining out. So if you are trying to have some fun with your pet in rain, please read on.
Many of us love the sound of rain. But one of the main reasons why dogs are hesitant in going out in rain is the sound alone. Dogs have ultra sensitive ears. For them, the sound of rain is amplified in their ears. For pets it's like the sound of sharp stones hitting on a wall and hence they often prefer to stay back home.
Other dogs may have thunder-phobia. In such dogs, the weather changes not only have psychological but also physical symptoms. The changing barometric pressure makes them feel heavy-ears just like how humans feel at higher altitudes. Thunder phobia however needs attention. Speak to a vet if your little shows unusual behaviour.
It's good to be prepared for every seasonal change. During rainy days, keeping your pet busy with some indoor activities and exercises is always a good idea. Play some good indoor games with your lovely pooch and reward him with his favourite treat. This will keep his mind busy and help deal with the changing weather.
Also, chewing helps dogs deal with the feeling of fullness in their ears. In order to relieve the pressure in dogs' ears they need to chew on something for an extended period of time.  Try a long lasting chew or a bone. Stock in his favourite chew sticks or bones before rains.
Just like us, even pets do not like to stay wet and soaked. So when your pet gets wet in rain, do not forget to dry his paws properly. A dog has a tendency of licking wet paws which might cause infection. So next time when your pet comes back wet, towel dry him with special pet towels and give him an extra treat.